Heima's first single
The first Heima`s single "Wszystkie najgorsze slowa" will be released on May 10, which is promoting their second album.
Heima – who are they?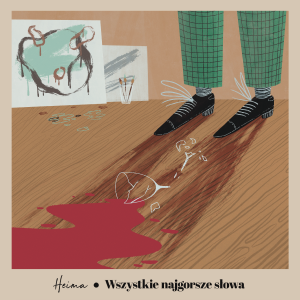 Heima is a band from Łódź operating since 2017. Olga Stolarek's deep vocals and intriguing musical layer are the hallmarks of this line-up. At the beginning of 2022, together with the Agora Muzyka publishing house, they released their debut album entitled "W domu". On this well-received album, they presented alternative, melancholy compositions with original Polish texts about the reality that surrounds us. They are currently working on their second album, on which they want to combine the melancholy and calm sounds accompanying them from the beginning with post-punk and rock elements. An announcement of what's coming is the single "Wszystkie najgorsze słowa". The band performed, among others, at Męskie Granie, Stay Wild and Soundedit Festival. They supported the biggest stars of the Polish music scene: Kwiat Jabłoni, Artur Rojek, Happysad and Lady Pank. In 2020 they became the winners of the Soundedit Spotlight award, and in 2021 they were finalists of Jarocin Rytmy Młodych. In the "Sanki 2022" plebiscite of Gazeta Wyborcza, in which the most interesting new faces of the Polish music scene were selected, they took 2nd place.
The first single
"Wszystkie najgorsze słowa" is the first song by Heim's band, released after last year's very successful phonographic debut. So can we call this song the first single announcing the next release of the band? Probably yes! "Wszystkie najgorsze słowa" is a completely new version of Heima, a different energy load. These alternative-post-punk sounds will pierce you from head to toe and won`t leave your head. All this, as usual, with an original text, with which (unfortunately) many of you will be able to identify. Why? Listen for yourself. The song is accompanied by a beautiful music video created by the film group TOSIESAMOROBI.