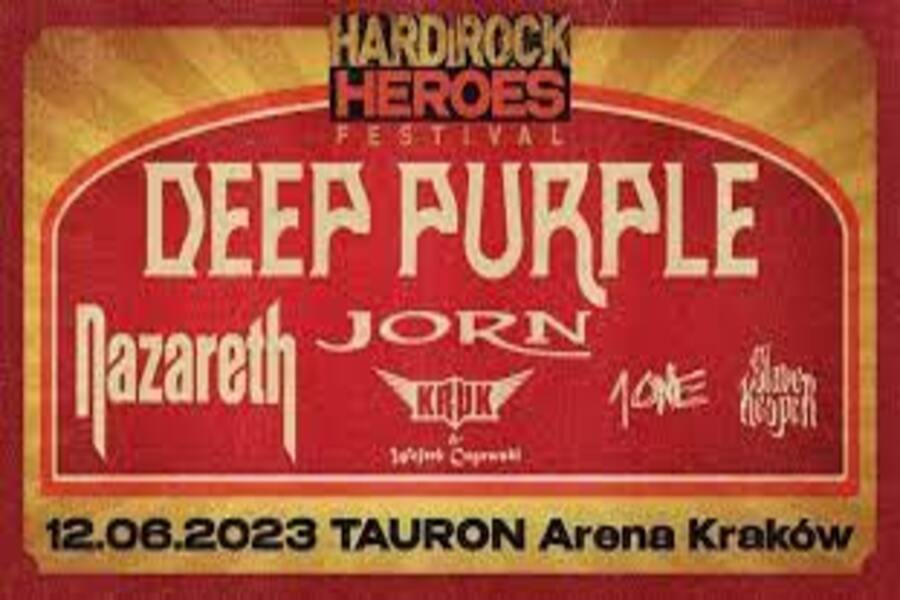 Hard Rock Heroes Festival 2023
It will be a real feast for all hard rock fans! HARD ROCK HEROES FESTIVAL will take place on June 12, 2023 at TAURON Arena Kraków! Deep Purple will be the headliner of the festival! Among the special guests there will be such artists as the Scottish group Nazareth, the Polish scene will be represented by Kruk & Wojtek Cugowski!
Nazareth
A formation that certainly needs no introduction to any hard rock lover. The band has been active on the music scene since 1968. The group has 25 studio albums to its credit, and the latest one, "Surviving the Law" was released in April 2022. The band came to the top of the European charts primarily thanks to two albums from 1973, "Razamanaz", which was produced by Roger Glover from Deep Purple and "Loud 'n' Proud". However, the band's album "Hair of the Dog" (1975) brought worldwide fame. In the United States alone, the album has found over 1 million buyers. It was on this album that the song "Love Hurts" was found, which Nazareth popularized and it was this version of the song that became a worldwide hit. The band currently tours with Carl Sentance (vocals), Pete Agnew (bass), Lee Agnew (drums) and Jimmy Murrison (guitar).
Raven
A formation that is well known to Polish fans of purple sounds. The latest album "Be There", recorded together with Wojtek Cugowski, was released in April 2021 and met with a sensational reception from fans and the media. Certainly, Kruk's music eludes rigid definitions – it draws inspiration from classic hard rock such as Deep Purple or Rainbow. The band is also not afraid of long complex compositions and flirting with more progressive sounds.
Piotr Brzychcy: "It is impossible to imagine a better festival for Kruk than Hard Rock Heroes with Deep Purple as the main star. It is a great honor and great happiness for us. Kruk has already performed with Deep Purple three times and it was the greatest fulfillment of our dreams. As a longtime fan of hard'n'heavy music, when I heard about such a festival, I immediately thought – you absolutely have to be there! legendary groups slowly decide to retire, or worse, go to the other side of the rainbow. There is also a spark of hope in my heart that maybe for this special occasion Wojtek Cugowski and I will prepare a premiere song, because work on Kruk's new album continues!"
Deep Purple
This is a true phenomenon of the music scene. This band is considered the most important group in the history of music, which co-created such genres as heavy metal and hard rock. It was Deep Purple that was entered in the Guinness Book of Records as the loudest band in the world. The group has been operating for over 50 years and has sold over 100 million records. Deep Purple has released 22 studio albums and numerous live albums. Their song "Smoke On The Water" was among the top 500 compositions in the history of rock music.
In 2020, the album "Whoosh!" was released, and in 2021 the album "Turning to Crime" with a set of unusual Deep Purple covers. In July, Steve Morse left the band, but was replaced by Irish singer and guitarist Simon McBride. The great musical journey under the sign of Deep Purple continues, and the band itself impresses with its brilliant concert form. Metal Mind Productions invites you to:
12.06.2023 – TAURON Arena Krakow
Ticket prices in advance / on the day of the concert:
Slab – 290/ 320 PLN
Sectors:
1st category – 380/ 410 PLN
II category – PLN 340/370
III category – PLN 280/310
Tickets are now available at: shop.metalmind.com.pl, www.eventim.pl, www.ebilet.pl
More information: www.metalmind.com.pl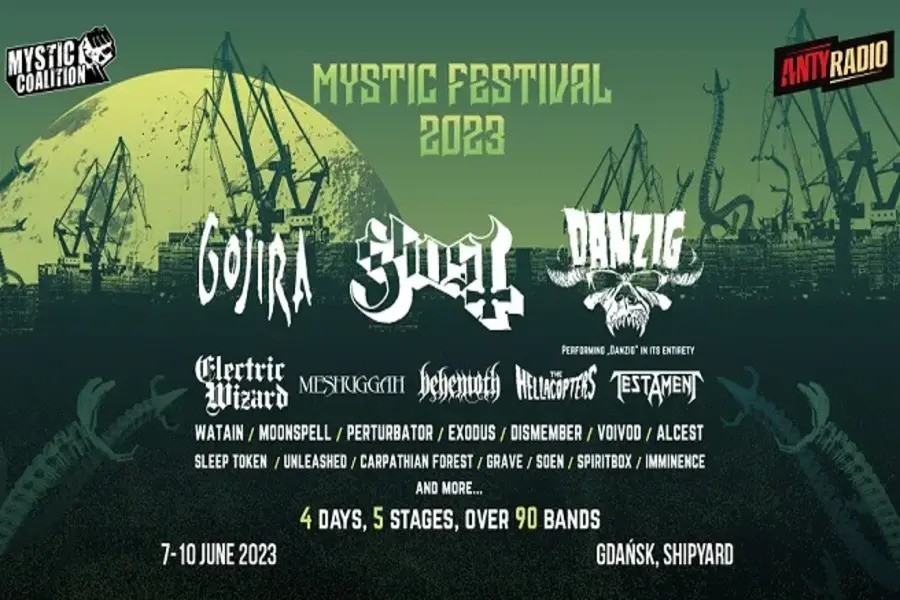 Mystic Festival 2023
Mystic Festival 2023 in Gdańsk – four days, five stages, over 80 bands, Ghost headliner!
First of all, as during the previous edition of Mystic Festival, it will take place at the Gdańsk Shipyard, on June 7-10, 2023. From bloody death metal to hit hard rock. The festival will last one day longer, and we are preparing all this in the industrial, but hospitable space of the former Gdańsk Shipyard area.
Mystic Festival 2023 line-up
This year, the organizers have announced the performances of over 80 bands. More than half have already been revealed, including: Meshuggah, Behemoth, The Hellacopters, Testament, Watain, Moonspell, Perturbator, Exodus, Voivod, Alcest, Sleep Token, Unleashed, Carpathian Forest, Graue, Soen, Phil Campbell and the Bastard Sons, Godflesh, Primitive Man, Earthless, Lucifer, Greg Puciato, Lord of the Lost, Horskh, Heriot, Sylvaine, Employed To Serve, Planet of Zeus, Antimatter, Darkher, Ne Obliviscaris, LLNN, Pupil Slicer, Birds in Row, Undeath, Lili Refrain, Bury Tomorrow, Orbit Culture, Pure Bedlam, Dismember, Nothing more, Wolfheart, Molybaron, Bombus, Black Mirrors.
First of all, the headliners include: Ghost, Gojira and Danzig, who will play their cult debut album in its entirety at the Shipyard.
Tickets from PLN 639 are available on the official website of the festival.
Hurry up! The organizers have extended the sale of Early Bird pool passes only until January 16!
Day tickets will be available from January 17, 2023.
More information will follow soon.
Metal Hammer Festival 2023
The latest edition of the Metal Hammer Festival is taking place this year in Łódź. The headliner of the festival is a formation whose return to the concert stage is one of the greatest metal events!
On Monday, June 5, we invite you to the Atlas Arena in Łódź. This year's headliner is the cowboys from hell – Pantera! Two American bands will also perform at the festival – Hatebreed and Crowbar. The Polish scene will be represented by: Illusion, Flapjack and Subterfuge!
Pantera
First of all, it will be the loudest return to the concert stage! Celebrating one of the best metal groups ever! For the first time in over 20 years, you will be able to hear material from Pantera's cult albums live. They defined the metal scene of the 90s. Phil Anselmo and Rex Brown, and with them hundreds of thousands of fans at the biggest festivals next year, will celebrate the works of one of the most influential metal formations in the world. And it will be a shameless show of power!
Pantera is one of the most successful and influential metal bands of all time. The uncompromising quartet, which included vocalist Philip Anselmo, guitarist Dimebag Darrell, his brother drummer Vinnie Paul and bassist Rex Brown, found success in the 1990s with numerous gold and platinum albums, sold-out tours, wild live performances and most notably four Grammy nominations. The formation recorded 9 studio albums, including such cult albums as "Cowboys from Hell" (1990), "Vulgar Display of Power" (1992) and "Far Beyond Driven" (1994). The four from Texas continue to inspire countless musicians while gaining millions of insanely devoted fans around the world.
Tickets for the Metal Hammer Festival are available at shop.metalmind.com.pl, www.eventim.pl and www.ebilet.pl.
For more details: http://www.metalmind.com.pl/.