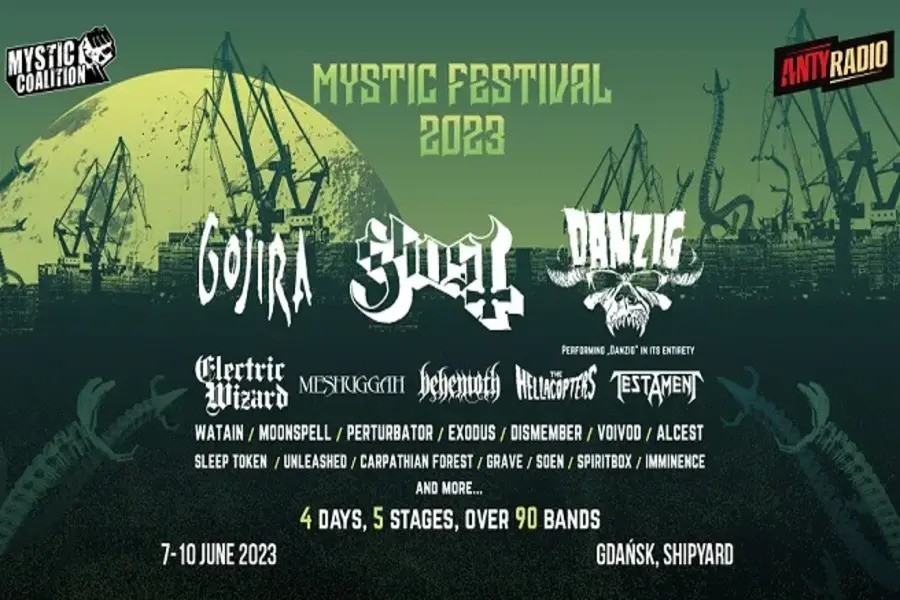 Mystic Festival 2023
Mystic Festival 2023 in Gdańsk – four days, five stages, over 80 bands, Ghost headliner!
First of all, as during the previous edition of Mystic Festival, it will take place at the Gdańsk Shipyard, on June 7-10, 2023. From bloody death metal to hit hard rock. The festival will last one day longer, and we are preparing all this in the industrial, but hospitable space of the former Gdańsk Shipyard area.
Mystic Festival 2023 line-up
This year, the organizers have announced the performances of over 80 bands. More than half have already been revealed, including: Meshuggah, Behemoth, The Hellacopters, Testament, Watain, Moonspell, Perturbator, Exodus, Voivod, Alcest, Sleep Token, Unleashed, Carpathian Forest, Graue, Soen, Phil Campbell and the Bastard Sons, Godflesh, Primitive Man, Earthless, Lucifer, Greg Puciato, Lord of the Lost, Horskh, Heriot, Sylvaine, Employed To Serve, Planet of Zeus, Antimatter, Darkher, Ne Obliviscaris, LLNN, Pupil Slicer, Birds in Row, Undeath, Lili Refrain, Bury Tomorrow, Orbit Culture, Pure Bedlam, Dismember, Nothing more, Wolfheart, Molybaron, Bombus, Black Mirrors.
First of all, the headliners include: Ghost, Gojira and Danzig, who will play their cult debut album in its entirety at the Shipyard.
Tickets from PLN 639 are available on the official website of the festival.
Hurry up! The organizers have extended the sale of Early Bird pool passes only until January 16!
Day tickets will be available from January 17, 2023.
More information will follow soon.